Coverings, furniture and accessories: wood in the bathroom is one of the most popular materials. Wood can impart incomparable warmth and its return is unique.
But on the other hand there are many factors against it, as wood is a living material that absorbs humidity and changes over time.
You need to carefully choose the appropriate type of wood and the most resistant finishes, so that you can use wood in the bathroom without contraindications, especially if you decide to lay it on the floor or use it as a wall covering.
There are also many materials that simulate its effect, from porcelain stoneware to laminate, but the warm feeling of walking on wood is truly unique.
Let's see how to use wood to furnish rustic, modern, Nordic and spa-style bathrooms.
Rustic bathroom
Wood is a versatile material that permits endless combinations. In a farmhouse with exposed stone walls, for example, an old charm parquet suffices to create the perfect rustic bathroom. And in a newly restored attic, the warmth of wood can envelop the setting from the floors to ceilings with exposed beams. In this case, correct ventilation must also be evaluated to prevent moisture deposits. And in a rustic bathroom you can give a contemporary touch with linear, minimalistic bathroom fixtures, possibly in stone with light colours.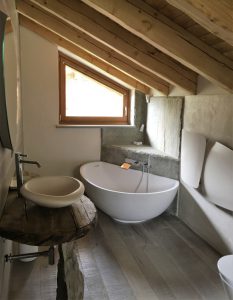 Modern bathroom
Between tactile contrasts, plays on colours and sophisticated finishes, creating a modern bathroom with wood is a veritable game in which imagination is the only limit. The latest bathroom furnishing trends are moving towards the use of simple, linear tops, often in natural materials such as wood, with essential-shaped stone washbasins placed on them. A combination of these elements can create a setting featuring visual and tactile contrasts.
A glass shower stall featuring tap fittings in warm tones such as copper and brass will give the modern bathroom a further touch.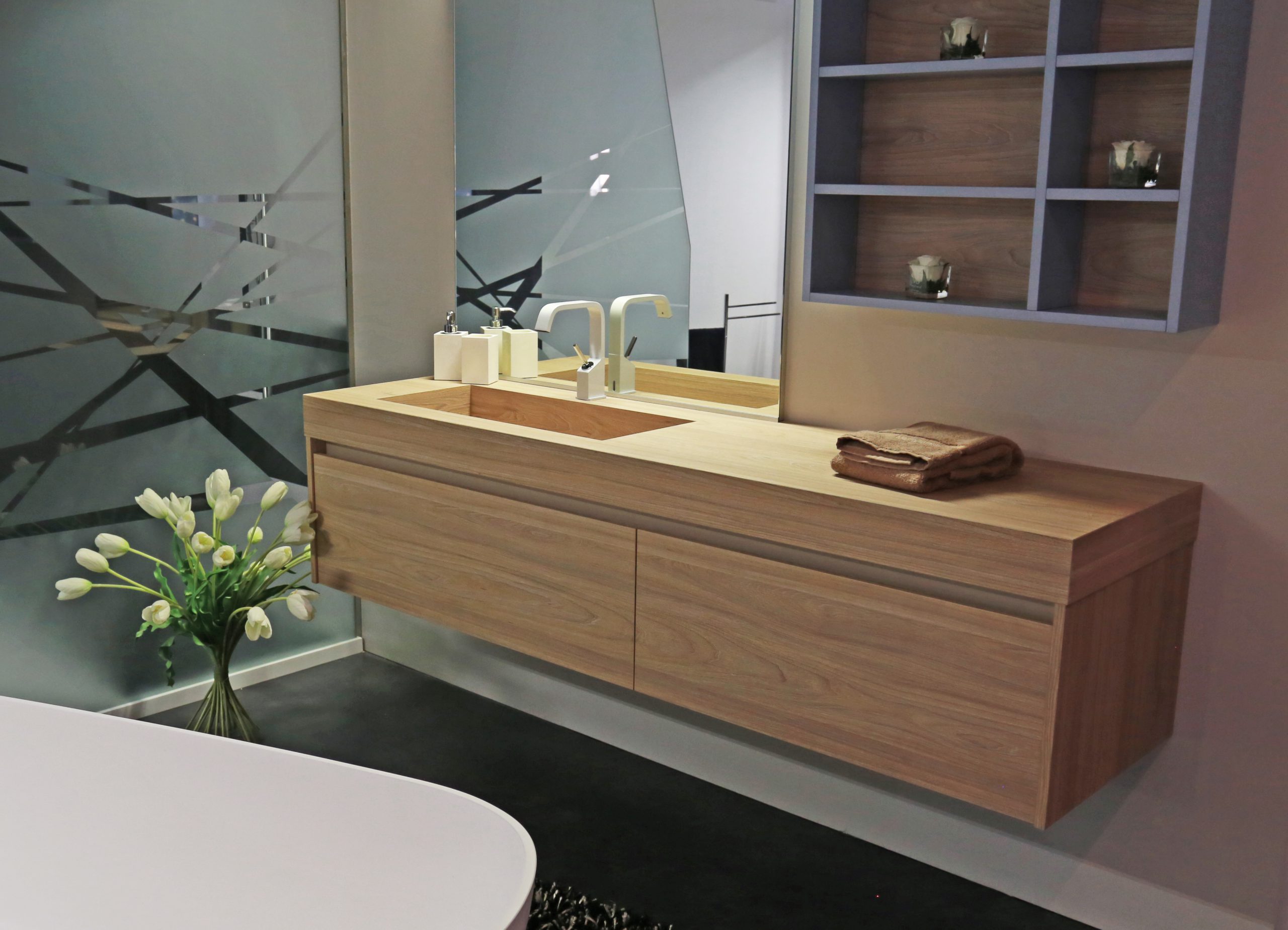 Nordic style bathroom
In recent years, green trends and the explosion of the Nordic style have made wood a major design protagonist. So in order to create a Nordic style bathroom, it is key to choose soft colours and natural finishes that leave the beauty of wood unchanged, whether you decide to use it in furniture or wood is chosen for floors or wall coverings.
White is the colour that best lends itself to create clean-look designer bathrooms where natural wood stands out to create the perfect Nordic style setting.
Spa in the bathroom
In large homes with roomy spaces it is not uncommon to find bathrooms that become veritable spas, areas dedicated to relaxation, wellness and regeneration of body and b. Wood is a major protagonist in this type of setting: it lays on the floors, goes up the walls, covers showers, Jacuzzis and saunas. It is important here to choose the wood finishes carefully to make the wood water and moisture resistant, and to complete the surfaces with ribbing and non-slip treatments to render the environment safe.