The history of Corian® began in 1967 in the laboratories of the multinational chemical company DuPont, by chemist Donald Slocum. Patented in 1968, it was commercially introduced for the first time in 1971 at the National Association of Home Builders' meeting in Houston, Texas. Conceived as a material for kitchens and bathrooms, it was initially only available in white. Today it is available in more than 100 different shades and textures.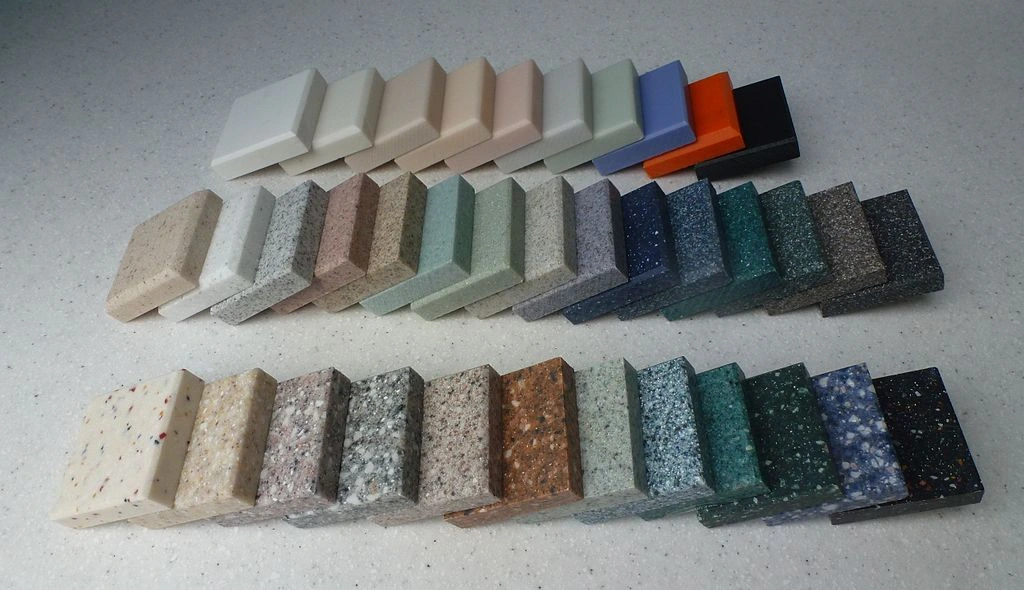 Technically, it is a mixture of one-third polymethyl methacrylate or PMMA (an acrylic polymer) and two-thirds aluminium hydroxide, a white mineral derived from bauxite. It is produced in four standard thicknesses: 4, 6, 12 and 19 millimetres. Being a "bulk" product, in cross-section it is uniform in colour and structure. Thanks to this special feature, the slabs do not delaminate and show fewer signs of wear. It was the first material to be called "solid surface".
Why choose Corian®
The success of Corian® is due to the undoubted peculiarities of this material:
It is not porous, so it does not absorb moisture or chemicals. Thanks to the impermeability of the surface, it is highly resistant to stains and allows excellent hygiene.
Joints can be made invisible by gluing the parts together with an acrylic adhesive of the appropriate colour. After drying, the area is sanded and polished for maximum uniformity.
Scratches and incisions can be removed with fine-grit sandpaper and abrasive pads.
The material becomes malleable with heat, allowing for an unlimited range of shapes.
The latest formulations are stable and do not yellow over the years.
Wide range of colours and effects.
is non-toxic, hypoallergenic and does not release harmful substances.
in the thinnest thicknesses it is translucent; it can therefore be backlit to achieve special colour and lighting effects.
it is easily machined by chip removal, with the same techniques and tools used for wood.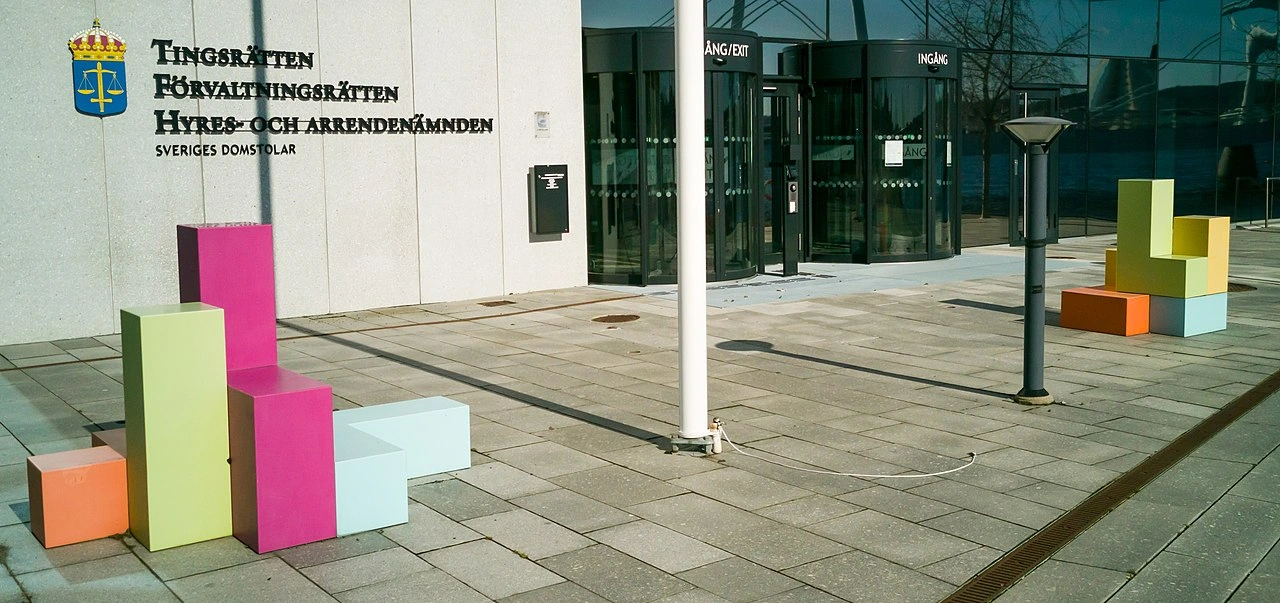 As with all materials, Corian® has limitations:
it is generally heat resistant up to about 100 °C, but can be damaged by excessive heat.
scratches are visible, especially in darker shades.
How to clean Corian®
To remove stains and ensure maximum hygiene while preserving the aesthetics of the material, it is essential to follow the manufacturer's instructions. DuPont™ recommends cleaning Corian® surfaces using soap and water, or a detergent for washable surfaces; then rinse and dry thoroughly. Cleaning should be done with overlapping circular movements.
Abrasive cleaners, abrasive sponges and metal tools (brushes, scrapers, etc.) should be avoided, especially on dark or highly polished surfaces.
Very aggressive chemical products such as bleach, acetone, oven sprays, paint strippers, turpentine, bases and strong acids can ruin the surface of the material. In the case of severe damage or deep scratches, the finish can still be restored by qualified professionals.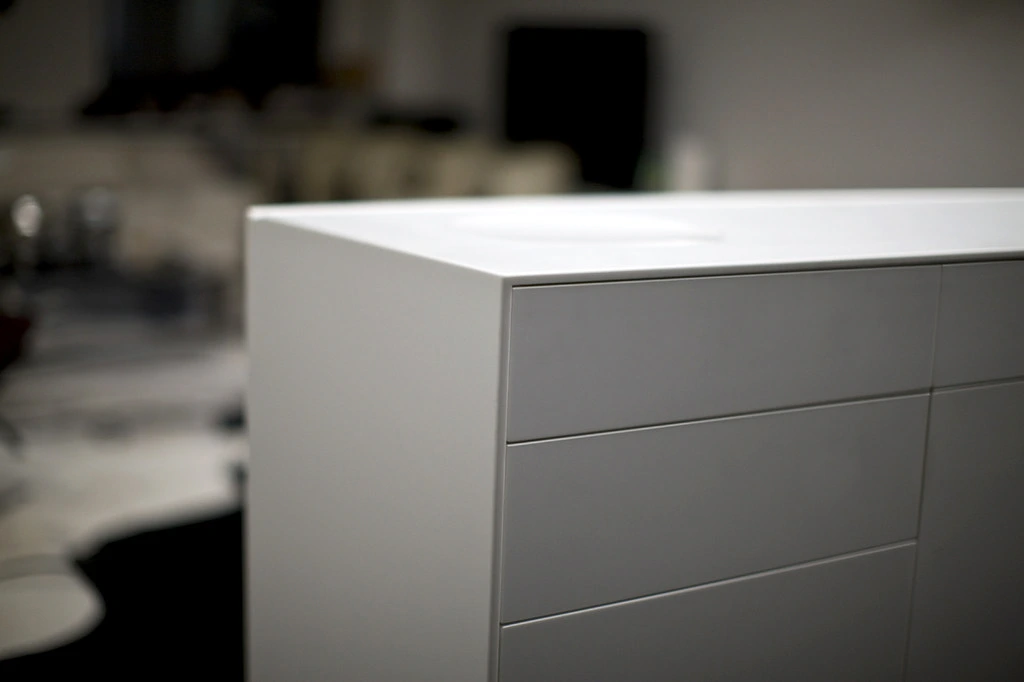 Not only Corian®
Following patent expiry, the Solid Surface family has expanded with the emergence of other technically even better performing materials. Here are some of them:
Tecnoril: 100% acrylic Solid Surface, characterised by a high whiteness point and the ability to maintain its purity over time, without yellowing.
CristalPlant: Composed for the most part of high-purity aluminium trihydrate mineral fillers bound by resins of vegetable origin.
Deimos: Solid surface consisting of natural mineral material combined with acrylic resin and polyester.
Ocritech: acrylic-based material known for its unique characteristics, combining lightness, strength and pleasantness to the touch.
Mineralmarmo®: engineered stone mostly composed of high-purity dolomite mineral fillers bound by recycled PET resins.
Mastella uses many of these materials to make its washbasins and bathtubs, choosing the best composites or resins for each specific application. To find out more about these composites, see the Materioteka section of our website. If you want to see all our products made of Solid Surface, visit the Washbasins and Bathtubs sections or download the iComplementi catalogue.
DuPont™ and Corian® are trademarks of E. I. du Pont de Nemours and Company. Other trademarks are the property of their respective owners.
Image credits:
https://commons.wikimedia.org/wiki/File:WalkingTable.jpg
https://commons.wikimedia.org/wiki/File:Corian_samples.jpg
https://commons.wikimedia.org/wiki/File:Tetris_Jacob_Dahlgren.jpg
https://flic.kr/p/9L4LXq