After years of dominating trends in decorating, white, the color associated with light and purity, he is handing over its scepter to black, a color that does not accept half-measures. Generally associated with negativity in the collective imagination, black actually boasts many admirers who appreciate its elegance and sophistication.
In interior design, black has never completely gone out of fashion by virtue of the fact that it goes with everything, like other neutral colors such as gray and white, although its use has always been limited to a few decorative pieces or small areas of coverings.
Body bicolor basin
The change from the past is the use of black as the absolute star in all-black spaces, a suggestion that is gaining favor among outright lovers of black.
The all black house requires thorough and rigorous design in every detail, to ensure an aesthetically appreciable result and, at the same time, an environment that does not generate anxiety and unease. Sophisticated and fascinating, black does tend to absorb light, making spaces seem dark and cramped.
As a general rule, all black is suitable for large and luminous environments. However, some generally small and not very bright rooms such as bathrooms and corridors, if decorated in black, can turn into little gems.
The secret to successfully decorating all in black lies in respecting a few rules: the clever use of the contrasts between the textures of the materials, the alternating of matte and shiny surfaces, and well-balanced combinations of few colors.
Starting from floor and wall coverings, natural materials should be favored like slate, marble, or granite, while, for those who love wood flooring, the trendiest solution is wood treated according to the ancient Japanese art of Shou-Sugi-Ban, which creates a very impactful natural black patina.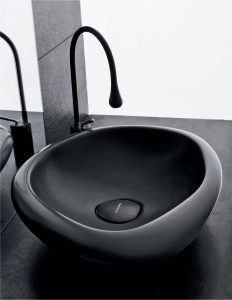 Sasso Black Washbasin
A trick to using black on the walls without overpowering the space consists of matching it with white, gray, or rough surfaces such as stone and brick, alternating them in vertical and horizontal areas.
For the furniture, the mixings of matte and gloss finishes are perfect, and the inclusion of statement pieces in copper, gold, and transparent materials. Especially coveted are the timeless designer chairs in leather and chromed steel designed by Le Corbusier or Mies Van Der Rohe.
All black is perfect for the bathroom: here you can be so bold as to use black floor and wall coverings, combined with furnishings in white, gray, or wood finish, favoring quality products and modern design, such as compact vanities with an integrated top. A large mirror with LED lighting on all sides is ideal for creating a relaxing atmosphere, while halogen spotlights directed towards a white ceiling provide adequate lighting.
Finally, special attention should be paid to the choice of washbasin and bathtub, two elements that can make a difference: black free standing models with captivating design are ideal for a contemporary and sophisticated look.
Vov black bathtub