Don't just call it a bathtub. A freestanding tub can be so much more. A stunning, sculptural object, it becomes the real key design feature in the room, a luxurious element that makes your bathroom decor (and not only that) unique.
Freestanding bathtubs are decor features much loved by interior designers because they are perfect for giving the room character, without needing to add many more units and accessories.
Natural they are not all the same. They come in a wide variety of shapes and sizes, materials and colours. These are all characteristics that should be carefully considered for a bathroom feature that occupies a large amount of space, immediately drawing attention to itself. How do you choose the right one? Here are a few tips for adding a freestanding bathtub to your decor.
How to design a bathroom with a freestanding bathtub
If you are designing your new bathroom and you dream of a large bathtub where you can lie back and relax in glorious solitude, there are two options. You can start off by choosing the bathroom furniture and then picking a bath in the same style or you can decide to make the bathtub your key design feature and "construct" the rest of the bathroom decor around it.
In the photo above, for example, the choice of bathroom furniture came from Composition 11 of the Kami Collection by Mastella. The perfect match for the integrated washbasin in gold veined marble effect Gres Noir Desir is an equally striking bathtub like Anahita. Its design is perfect to soften the tones of the room with a touch of lightness, yet maintaining all of the elegance (it was also chosen to furnish the bathroom in Italian Big Brother 16!).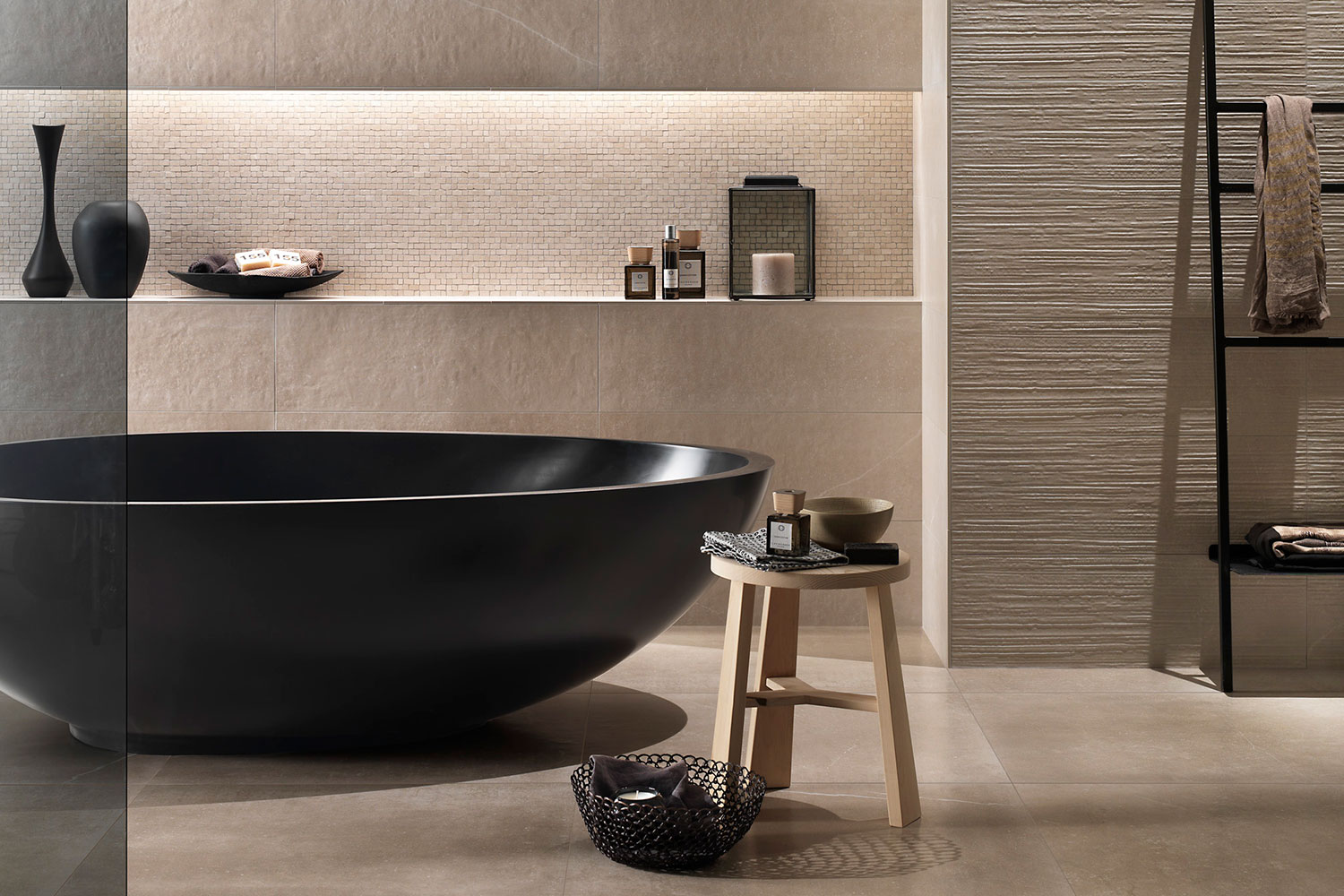 If you've already fallen in love with one particular bathtub instead, then you can start with that and design the rest of the bathroom around it. Choosing Vov Black, one of the iconic freestanding bathtub creations by Mastella, you only need add a few minimal black tone-on-tone or pale wood contrast elements for guaranteed effect.
Beyond the boundaries of the bathroom
The freestanding bathtub can also be installed somewhere other than the bathroom. You can experiment with original choices, for example putting one in a study (who doesn't like the idea of relaxing in the bath with a good book?) or in the bedroom, like the design below, where the classic Vov White designed by Oriano Favaretto, is a perfect fit.