Furnishings are not just a matter of furniture: does the expression "soft furnishing" sound new? It is one of the biggest trends in interior design and consists of furnishing the home with fabrics. The choice of fabrics, colours, and textures for home fabric elements fundamentally contributes to determining the style and character of a space. Moreover, changing the coverings and fabrics of your own home is a great idea to renew the look without spending too much.
How can you adopt soft furnishing to refurbish the various rooms in your home? Here's some inspiration from the major trends of the moment.
What accessories are involved in soft furnishing?
The answer is simple: everything that is woven!
Let's start with the fundamentals of home furnishings, such as sofas, armchairs and ottomans. (In some cases ottomans replace one or both of the previous elements, connoting living rooms of great character, often with a distinctly minimalist taste.) Many sofas and armchairs are now designed to be modular, allowing for easy customization and modification with fabric accessories: contrasting fabric inserts, coloured slipcovers that cover only part of the seating, warm quilts for the colder seasons.
Pillows are another way to use fabrics to adorn the house and give it a fresh look. They can be arranged not only on living room sofas or armchairs but also on dining room chairs to immediately give a welcoming look to the dining room, and on the living room rug by using large floor pillows to enlarge the relaxation area created by the sofa, armchairs and ottoman.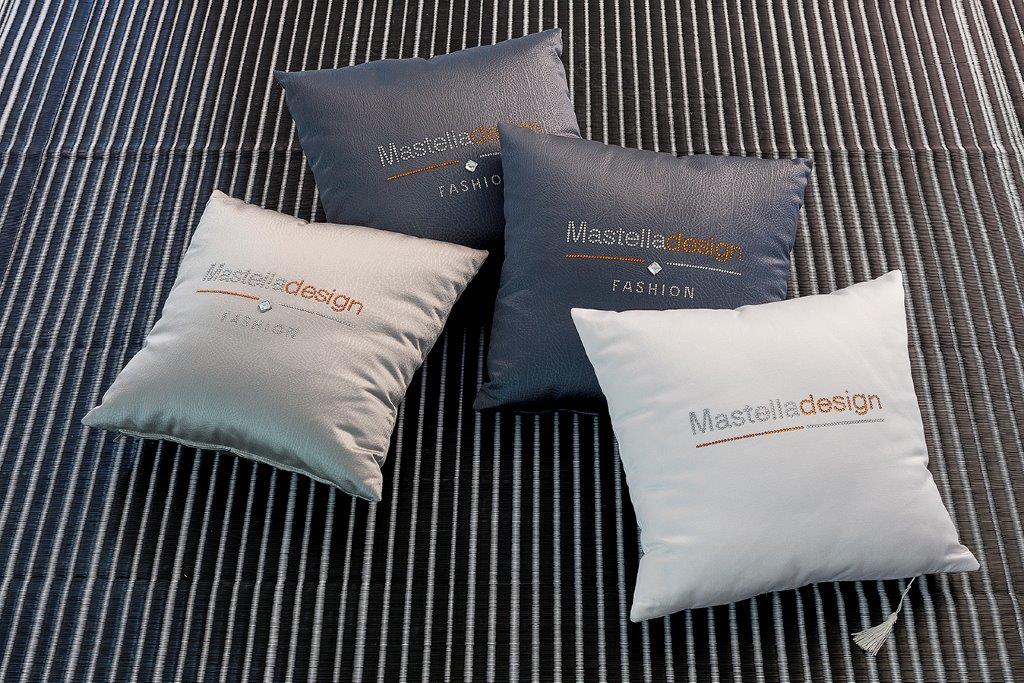 Curtains have a key role in soft furnishing: their construction, shapes and colours are able to completely transform the look of the home. Light curtains, characterized by transparency and vibrant colours, are the ones to choose to bring into the home the cheerful and sunny mood of the summer season. When temperatures start to go down, you can opt for thicker and heavier fabrics without sacrificing colour. In any case, they can be a great focal point of the changes in the house.
Even the bathroom can get a fresh look with fabrics. How? By using towels, which play a crucial role in a room where everything is arranged in full view. Coloured towels, curtains and carpets (perhaps in different shades of the same colour) enliven bathrooms furnished with neutral-coloured furniture, but the choice could also fall back on natural colours, which are ideal for creating a harmonious and serene environment with relaxing tones.
The trendiest fabrics for renovating a home
Choosing the right fabrics for your home may seem complicated, given the countless proposals facing the design world every day.
Among the major trends is the use of fabrics with the aim to shock: a solution that works very well in the living room, especially when leaning toward minimalist furnishings, perhaps in black and white tones. In this case you can drape the couch with a blanket made of technical, almost metallic fabric that bears a complex weft or lively geometric designs: a touch of innovation that will give the living area great personality.
But you do not have to be daring with cutting-edge materials and shocking colours to give freshness to an room: multicoloured striped motifs, especially when printed on natural fabrics such as linen and cotton, are very trendy in soft furnishing. Orange, green, yellow, and pink can be matched with the trendiest striped patterns and sometimes enhanced with embellishments that give a touch of light to the room with elegant minimalism.
An idea to remodel a room with fabrics, to redefine the spaces in the room, is to use fabric-covered screens: putting together more than one, with fabrics that are similar in colour but different in details and textures, will create a play on light and depth that will give character to the living area.