"Design is about the betterment of our lives poetically, aesthetically, experientially, sensorially and emotionally."
                               From the Karim Rashid Manifesto
Eclectic, optimistic and a great supporter of democratic design, Karim Rashid is one of the most intriguing designers of the contemporary era. Over 3,000 products have come from his designs and thanks to them he has won over 300 of the most prestigious awards in the field of interior design and architecture.
He claims to have understood that he wanted to become a designer when at age 18 he went to the International Furniture Fair in Milan for the first time, where he was fascinated by the work of Achille Castiglioni.
And Italy would also hold an important place in his training: graduating in Industrial Design at Carleton University in Ottawa, he would complete his studies right here in Naples, under the guidance of Ettore Sottsass. Today, Karim Rashid has a private studio in New York City, on the West side of Manhattan, where he creates projects that interest the entire design world: from Interiors to Industrial, to Graphic Design, crossing over even into the field of actual art.
The distinctive characteristics of Karim Rashid's work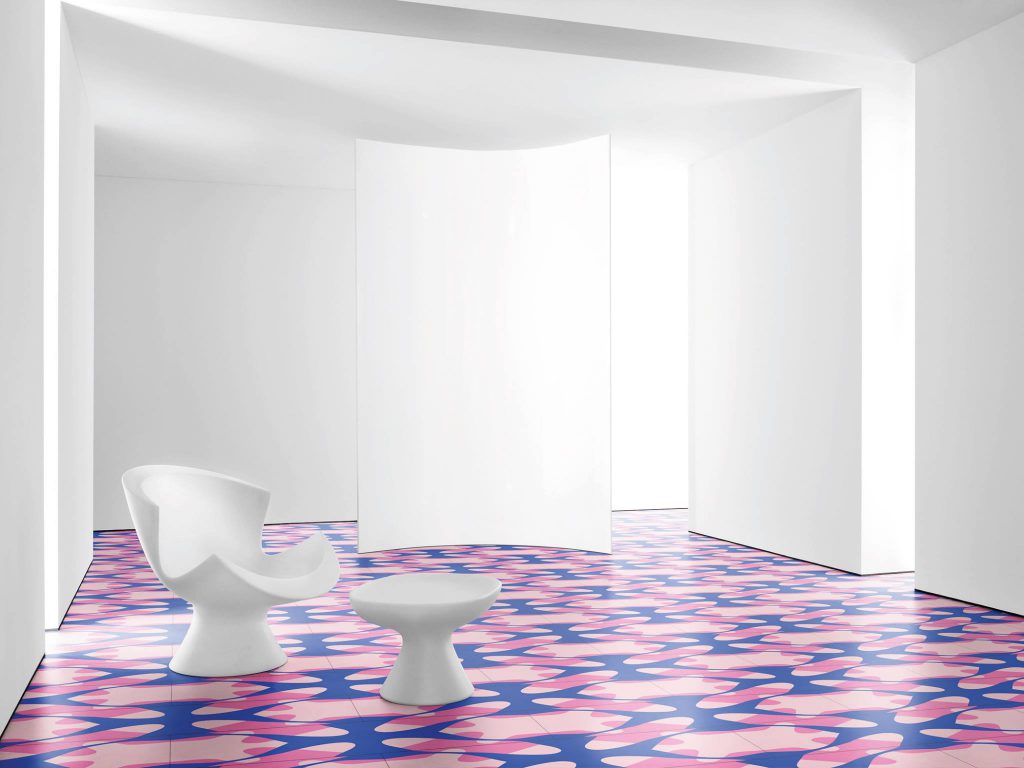 Karim Rashid's projects have always been a mix of different ideas, materials and styles that interweave each other, subverting traditional design rules. What immediately catches the eye about his works are the vibrant colours and soft shapes: Karim Rashid's design wants to be optimistic, full of positive energy and vitality. In his philosophy, any object or furniture that occupies a place in an individual's everyday life must make life easier: for this reason all his designs include round, fluid and comfortable shapes that fit perfectly to the person's behaviour.
For Karim Rashid, design is a democratic issue: it must not be a luxury, because everyone has the right to have well-designed objects that are functional according to the needs of those who own them. And that is why his favorite material for his works is plastic: a versatile material, and therefore noble, but democratic, as everyone can afford it, economically speaking.
Thanks to modern technologies used in mass production, it is possible to create objects that allow everyone to have luxury at home: a luxury that has become accessible thanks to the use of economical materials such as plastic and the perfecting of fast industrial techniques employed in production. Designers, according to Karim Rashid, have the task of starting this process by designing objects whose purpose is to improve the life of each individual, making it more comfortable, more beautiful, more exciting, simpler, just as he states in his "Karimanifesto".
In recent years, Karim Rashid has started experimenting with the use of environmentally-sustainable materials, whether it is biodegradable or recycled. So many of his iconic products traditionally made of plastic are now offered in bioplastics made from corn, recycled polystyrene or other green materials such as sugar, bark and acai.
What does Karim Rashid design?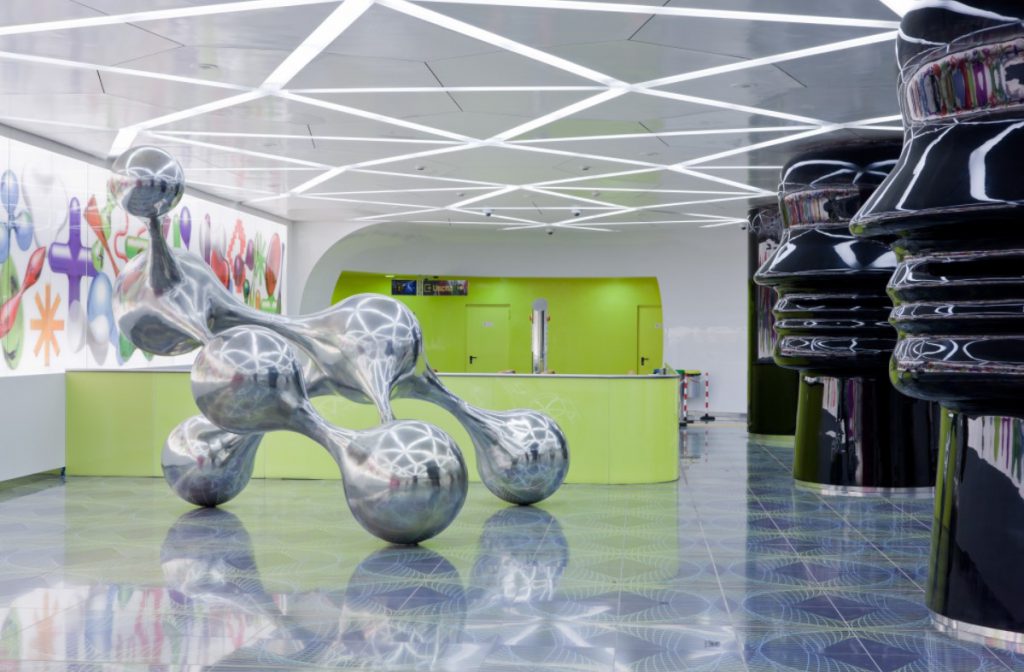 As anticipated, Karim Rashid's production interests the design world in its entirety. On his official website, it is possible to admire many works he has designed: furniture, lamps and chandeliers, accessories, public spaces, interiors, clothing and fashion accessories, graphic design and artwork, including installations.
Among the works he has designed are the brand new residential buildings for Hap Investments Lilak, the Pleasant Ave Condo and the Madison Ave Condo, which are immediately recognizable for the totally unconventional forms and colors used in construction. Also celebrated are Rashid's interior design projects for the Morimoto restaurant in Philadelphia or the Hotel Semiramis in Athens or the University of Naples Metro Station.
His portfolio includes collaborations with famous brands operating in various fields: Samsung for the high-tech world, Swarovski for precious jewellery, Artemide and Magister for furniture, Audi and Hyundai in the automotive sector.
Karim Rashid is credited, however, for the creation of some of the real icons of democratic design: the Garbo waste bin and the Oh Chair.
Garbo
Designed in 1994 for Umbra, Garbo is the creation that has managed to transform the common waste bin into an iconic design object. For more than 20 years, Rashid's waste bin continues to be a great success in terms of sales and is one of the designs the designer is most proud of, as it has succeeded in revolutionizing the concept of the waste bin: first it was a totally anonymous object and always equal to itself, with Garbo functionality has met aesthetic pleasure.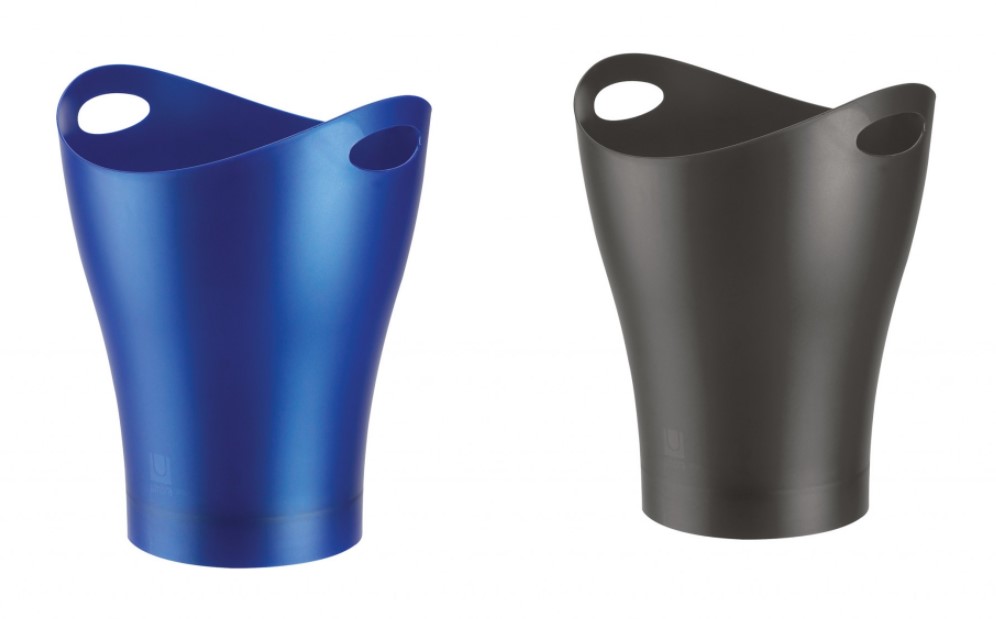 Oh Chair
It has becom a great classic of the contemporary era, the Oh Chair was first realized in 1999 for Umbra embodies the design emblems endorsed by Karim Rashid: soft and round shapes, vibrant colours for the finish and the use of economic materials. The chair is made of opaque polypropylene, the legs are made of steel, and in the renewed version they are painted the same color as the body: Surf Blue, Jasmine, orange, red and the most minimalist black and white. The Oh Chair since 1999 is part of the permanent exhibition of the San Francsico Museum of Modern Art (SFMOMA) in its white version.