"Design is a plan for arranging elements in such a way as best to accomplish a particular purpose"
Charles and Ray Eames
A great supporter of experimentation and the modernization of a society that was considered too static, Charles Eames is certainly one of the US' most influential twentieth century designers.
Born in Saint Louis in 1907, Eames began his career as a designer and developer at the tender age of 14 at Laclede Steel Company, an important company operating since 1911 in the field of steel manufacturing.
His work then proceeded with the study of architecture at Washington University, but he was dismissed before he finished his studies because of his excessively modern views.
This fact did not have much of an influence on his career: in 1930 Eames opened his architecture and design studio in St. Louis, which bore fruit in the form of a scholarship to the Cranbrook Academy of Art in Michigan, where he later became head of the industrial design department. At this institution, he began to work with architect Eero Saarinen on the project that earned his first recognition: a victory in the 1941 MoMA Organic Design in Home Furnishings competition.
The project in question, which experiments with the new technique of wood moulding, brought him a further bonus: meeting the painter Ray Kaiser who would become his wife and partner at the famous Eames studio, which is still active under the direction of Lucia Eames, the two founders' daughter.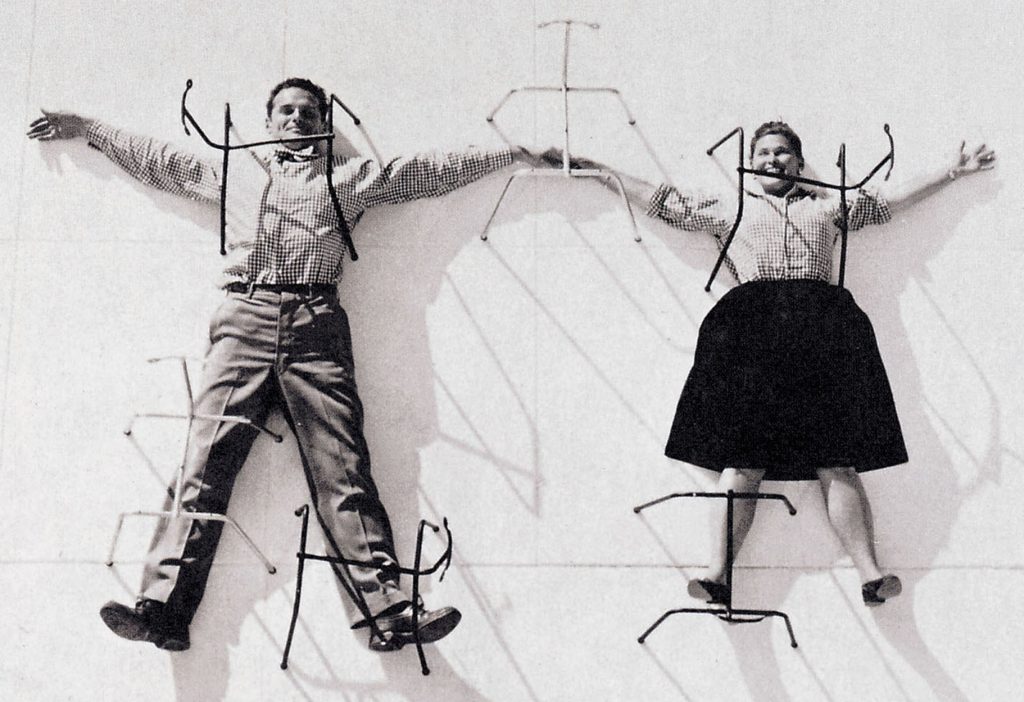 Distinctive characteristics of his work
Modern, experimental, wide-ranging: these are certainly some of the fundamental characteristics of Charles Eames' style, who saw his career explode during the 1950s, in the American post-war era. An enthusiastic environment in which the young and rich new society that was constantly searching for well-being in every aspect of daily living: a well-being that is also expressed through technological innovation, able to provide maximum comfort in every situation and to simplify any action.
The Eames studio and all its design work were perfectly in line with what American society of the time desired: technical experimentation is, in fact, based on many of Charles Eames' concepts. This would lead to patenting, for example, new methods for moulding wood, one of the most used materials in his works, in the name of the same Organic Furnishings Design that earned him his first acknowledgment.
In addition to molded wood, the raw materials on which Charles Eames's designs were based were always unprecedented and innovative elements, such as fiberglass or wire mesh.
Alongside this great technical experiment, a certain artistic note is always present in Eames' concepts: this is surely the imprint of his wife, Ray, a painter working in the field of contemporary art, who contributed to giving unprecedented shapes and colours to her husband's creations.
What did he design?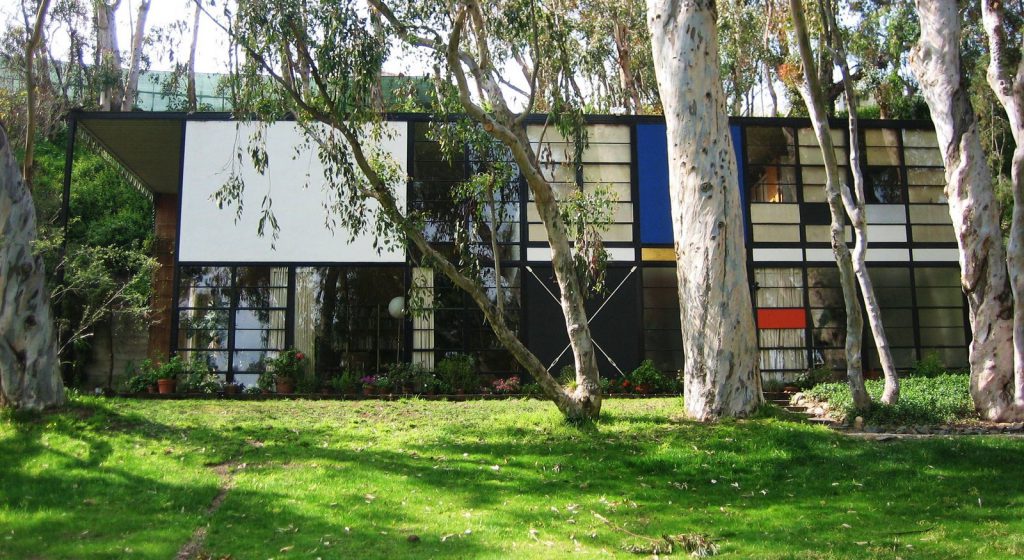 Mainly a designer, as well as an architect and director, Charles Eames designed numerous famous projects, including a number of chairs  that have become true design icons that are still in production. And that's not all.
In the field of interior design, the Eames Storage Unit Shelf is very well-known: designed in 1949 for Vitra, it is a shelving system available in different sizes and colour combinations, with references to the industrial world while still preserving a spirit tied to the style of the 40s and 50s.
Another shining example of his work that was made in the same year as the previous one, and from which the latter was inspired, is the Eames House. It is the Los Angeles home that the Eameses designed for themselves, with an avant-garde facade made of an iron structure and lots of different coloured panels, which reminds us a little of Mondrian's paintings.
But his most famous designs are probably two chairs: the Lounge Chair Wood, also known by the acronym LCW, and the Eames Lounge Chair and Ottoman.
Eames Lounge Chair Wood (LCW)
Made in 1945, today the Lounge Chair Wood is a true design icon: it is enough to think that 54 years after its conception, Time Magazine named it the best design of the 20th century. This chair represents to perfection two of the fundamental elements of Eames' work: the use of natural materials such as wood, in view of Organic Furnishings Design, and the molding techniques of this patented material, which allows the shaping of plywood so as to get a truly ergonomic seat.
Eames Lounge Chair and Ottoman
Another famous Eames design is the Lounge Chair with Ottoman, conceived in 1956 and still being sold today. It is a comfortable chaise longue, composed of an armchair and ottoman: you immediately recognize the Eames brand in the structure, made of curved plywood, to which padded cushions are attached. The Lounge Chair and Ottoman is still sold by Herman Miller.