The trends for outdoor space decor are inspired by different styles, which blend in creating unparalleled combinations of shapes and colors. One thing is certain: the boundary between interior and exterior spaces becomes more and more blurred, and elements typical to the living area  are appearing in gardens or terraces. The dining room moves outdoors throughout the summer months, as well as the corner dedicated to relaxation. And don't forget a space for enjoying the sunshine, equipped with every comfort.
How do designer brands interpret the many ways of experiencing outdoor spaces? Here are some ideas for decorating your garden or terrace depending on how you want to use these spaces.
An open-air dining room
Dining outdoors during the summer months is a long-standing habit for those who have an outdoor space at home. Whether it's a small terrace or a large garden, there are many ideas for tastefully decorating the space dedicated to being together at the table.
One of the biggest trends in garden tables and chairs is Eco-friendly materials: not only are they good for nature, but they are guaranteed to hold up well under weather conditions they face, from high summer temperatures to rain.
Mostly these are furniture made of recycled materials, but also wicker, rattan and wrought iron, then treated with high quality coatings that make them durable over time. The colors range from natural shades, such as dove grey or beige, to the more vibrant ones: lemon yellow, orange, green and fuchsia, which enliven neutral colored gardens and terraces.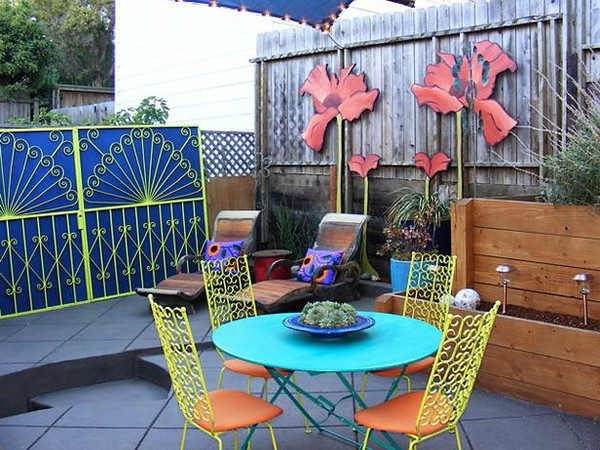 The relaxation area moves outdoors
If you want to dedicate the garden or the terrace entirely to relaxation, there are numerous starting points this season. The outdoor space is becoming a real oasis of peace and relaxation, to experience in the same way as the living area inside the house.
Seating has become "more relaxed": low and soft, they aim to be ergonomic, guaranteeing the best choice for comfort. Fabrics and pillows are no longer forbidden in garden furniture: modern materials allow for waterproof and weatherproof fabrics and padding.
Armchairs and love seats, chaise longues, ottomans or even just large pillows are the perfect seating for relaxing moments in the open air, to choose from the most exquisite and decorative colors and patterns. Thumbs up to floral prints or colorful geometric minimalism, which combine hot and vibrant colours like yellow, orange and red.
Equip your garden or terrace for sunbathing
Another way of interpreting your home's outdoor space is to decorate it as a space to fully enjoy the sunshine. Here, the garden and the terrace are packed with typically summer seating: reclining deck chairs, sun loungers and an awning or parasol to take cover after a long exposure to the sun.
Among these elements, the deck chair is certainly one that has inspired the minds of many designers: its most classic forms have been reinterpreted numerous times, leading to the production of hybrid seats that have a traditional silhouette but are made with modern materials.
The trendiest deck chairs keep the canvas with colored stripes or they use recycled sails for the seat, while the structure can be in wood or aluminum, sometimes with accessories such as functional parasols.
In short, whether you prefer the terrace or the garden, there is one bottom line: enjoy to the full your home's outdoor spaces!