We now know from scientific research and more or less sensationalist reporting that colours can influence our mood, even affecting some physical reactions.
Different shades of colour can alter blood pressure and respiratory rhythm, to such an extent that chromotherapy is suggested to help deal with several conditions linked to the psyche, like hyperactivity, headache or insomnia.
Of all the colours out there, which would you associate with relaxation? Most people would answer "blue", so let's find out why together.
The relaxing effect of the colour blue
The colour blue in all its infinite variations, from the darkest tones to the lightest shades of azure, creates a sense of tranquillity. Probably because it evokes the pleasant feeling of looking out over a calm sea or a clear blue sky.
Bathroom units in mid blue, air force blue, teal and petrol blue are a great choice for creating a peaceful atmosphere in your home. They work particularly well in bathroom cabinet finishes, since the bathroom is first among all the rooms in the house when it comes to relaxation.
Ideas for blue bathroom furniture
If you are seeking inspiration for your next bathroom, but can't decide among all those shades of blue, here are a few ideas to get you started.
If you love Scandinavian style and deep drawers, then you'll like Composition 14 of the Kami Collection by Mastella, paired with the white stone washbasin. For a totally natural effect!
Do you have a small space, but want decor with maximum detail? Then Composition 7 of the brand new Smart Collection by Mastella is for you. Here navy blue surfaces are enhanced by the semi-inset washbasin in Deimos Fango with an extra touch of elegance in titanium finish edging.
If you prefer a shade closer of marine blue, don't miss Composition 10 of the Byte 2.0 Collection  with modules in Petrolio Mat, to arrange as you wish.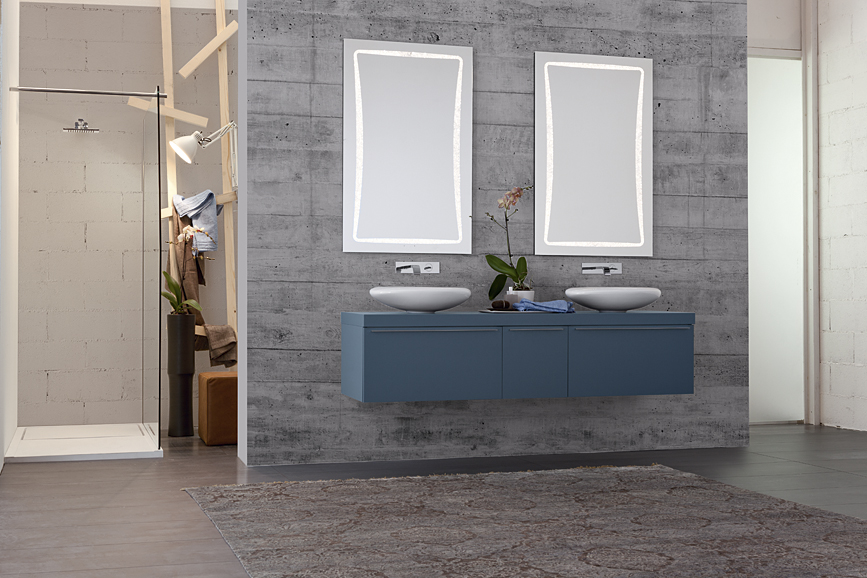 Contact us to discover our blue furniture range!