Christmas is around the corner and you haven't yet thought about how to decorate your home for the holiday? Take our advice and make your house more beautiful and cheerful during this magical time.
Christmas is around the corner and this cold season starts to warm up thanks to its magical atmosphere:  in the streets the first lights and decorations are reappearing, while the happy and carefree mood typical of the holidays is the air and starting to spread about.
Are our homes ready to welcome Christmas the way they should?
Creating the Christmas atmosphere doesn't exclusively mean filling the home with tartan pillows, garlands, and coloured balls. Surely this is one of the most traditional ways of interpreting the Christmas atmosphere, but even a more modern and minimalist style can better transmit the Christmas spirit: the trick is to create a harmonious environment between furniture, furnishings and strictly Christmas decorations, choosing elements that enhance the home's spaces.
Choose Christmas decorations in line with the home's style
If our home already has a welcoming atmosphere with country or shabby chic furnishings, the more traditional decorations, such as those made of fabric or green garlands, are definitely the perfect solution to create an even warmer environment to host the cheerful Christmas lunch table.
To create a truly magical atmosphere, lights are your big allies! Small and colourful to create designs, words and decorative motifs on the walls of the house; with two matching colours to decorate the home's stairs and handrail.
Those who prefer simplicity and have adopted a purely minimalist style of decor in their home could adopt more modern, unconventional  decorations, in order to create an enchanted environment in which to spend the holidays with the whole family.
The Christmas tree is absolutely essential, but why not reinterpret it in a more modern way? A variation could be given by the reduction and stylization of the classic green spruce: how? Small conical and linear statues, covered with glitter, sequins or lights that you can place on shelves or furniture depending on your needs.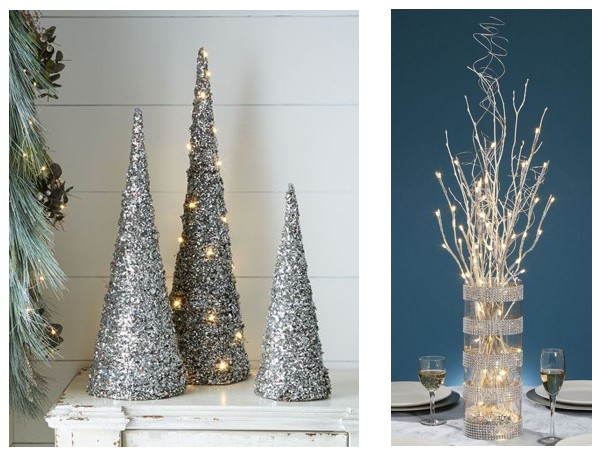 An alternative to pull off a minimalist version of the traditional Christmas tree could be choosing only branches, painting them white, gold or silver depending on your preference, and place them inside a large jar in an open corner of the house. For a magical effect, lights will once again be your big allies, placed on the bottom of the jar as the base of the tree, but alternatively they can be imperceptibly wrapped around our painted branches for a truly elegant and chic Christmas.
Christmas colours, between tradition and minimalism
Also in regard to colours, Christmas can be interpreted in different ways depending on the space that you are going to furnish and decorate.
Red is certainly the most traditional colour for Christmas decorations: it immediately transmits warmth and vivacity and is often paired with gold or green garlands and lush trees. Red ,however, can also be the perfect colour for decorations in a minimalist space: an all white living room glows thanks to strictly red trees, candles and Christmas stars, the minimalist elegance of black and white decor is broken by scarlet details. Two solutions for combining the modern style of your home with a traditional decorative element, creating harmonious spaces without distorting your home's style.
Final details: lights and fragrances to complete the Christmas atmosphere
Not just decor in the traditional sense, trees and accessories that remind us of Christmas: the right lighting and fragrance that spreads throughout the rooms of the home are also very important for creating the perfect Christmas atmosphere.
Creating sophisticated and impressive furnishing solutions with lights is very simple since they can be shaped and arranged in many ways depending on our needs. Those who want to recreate in their home the more typical atmosphere of a traditional Christmas can choose more colourful lights or warm tones, and those who must furnish a more modern space could play with white or cool and delicate coloured lights to maintain a certain chic aura in the home.
Candles are the more classic alternative to traditional lighting, with the timeless charm that wins everyone over, from lovers of more classic style to those who prefer more contemporary spaces. It's a great idea to create a personalized centerpiece to brighten up tables during the holiday season.
Finally, you can't call it Christmas atmosphere if the typical smells of this time of year are lacking. Undoubtedly those that make us feel right at home, warm and pampered, are ginger and cinnamon, oranges and tangerines.