"Subversive, ethical, ecological, political, humorous… this is how I see my duty as a designer."

Philippe Starck
Considered one of the most important European designers, Philippe Starck was born in 1949 in Paris. Since childhood, Starck has been fascinated by creativity: as a matter of fact, he spent a long time on his father's drawing boards, an aeronautical engineer, from whom he claims to have understood the beauty of having a creative profession.
Much of his work comes from self-learning and his genius: he attended Ecole Nissim de Camondo in his hometown, an institute where the arts of product design and interior architecture are taught, but he defines himself as a lazy student. This has not affected his career: at only the age of twenty, when he was still in school, he designed an inflatable structure designed to be used in living spaces. Not long after, the innovative design of this creation lead to him being noticed by Pierre Cardin, whose publishing house hired him as artistic director.
From this point on, Philippe Starck's career has been steadily rising since the creation of the company Starck Product (in 1979), with the aim of producing and marketing his previously designed works, up to his dedication to the general public as a designer, when in 1982 the then French President François Mitterand commissioned him to design the furnishings for some of the rooms in The Eliseo's private flats.
Today, Philippe Starck has about 10,000 creations between products and works already existing or in the phases of development, while at the same time holding a professorship at the École Nationale Supérieure des Arts Décoratifs in Paris. His vision of design remains unchanged over time: the fruit of creativity, whatever it is, must improve the life of the highest possible number of people.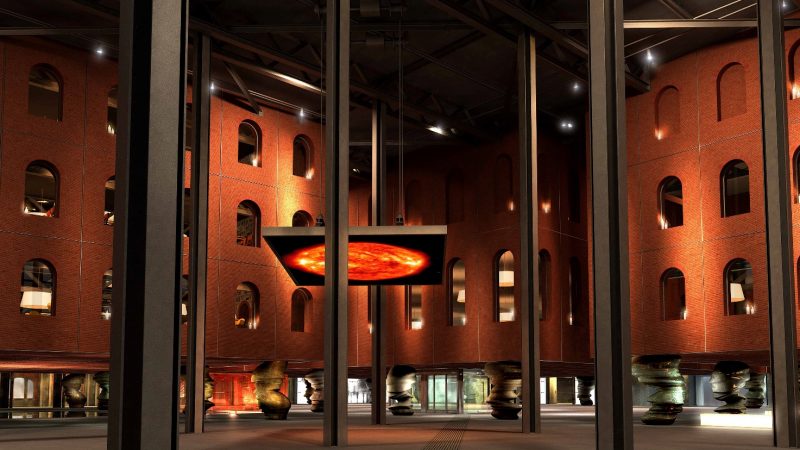 Distinctive characteristics of Philippe Starck's work
Any creation by Philippe Starck is framed in a very clear vision of design: products, objects, and architectures need not just be beautiful, because they can be found everywhere. The object must instead be in the service of man and for this reason it must be designed with scrupulousness and elegance, in order to improve his life. Even the concept of democratic design is typical of Philippe Starck's work: as already mentioned, an object born from an individual's creativity must improve the lives of as many people as possible. To this end, an object born from Starck's hand is then made of materials accessible to all and economical and environmentally-friendly production processes.
All this, without ever forgetting another characterizing feature of Starck's design, that is, the playful, humorous and entertaining side, with which every creation amazes both him, and above all the recipients of his works.
But Philippe Starck does not only deal with objects and products: as a matter of fact, locales, spaces and architecture have also come from his designs. Starck's is an ethical approach to space, and for him each creation represents the opportunity to analyze the created in depth: the meaning of a place for the people who are in it, the relationship it has with human life and its role in human progress.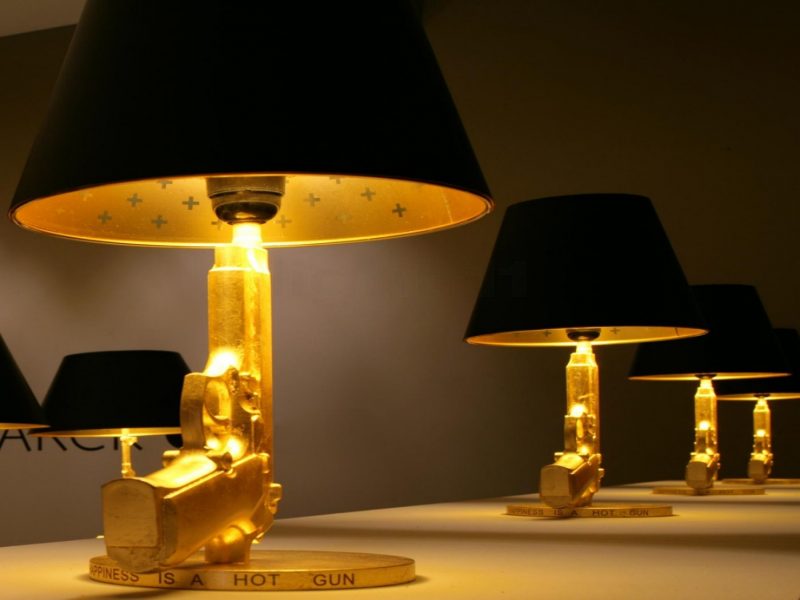 From this profound reflection on human existence and its relationship with spaces and objects, provocative creations have sprung like the famous Gun Lamp, designed by Starck in 2005 and marketed by the Italian company Flos. The lamp, with its pistol-shaped stem, wants to be a sign of the times, at the time it was created: according to Starck, in fact, man's instinct is to solve every issue with attack and violence, armed with weapons (not just physically, but also metaphorically) instead of agreements made peacefully with the counterpart. "We have the symbols we deserve," says the designer on his Gun Lamp collection.
What has Philippe Starck designed?
As anticipated, Starck has dealt with numerous projects that have given life to locales and public spaces, from hotels to discotheques to the rooms of the Eliseo, to everyday objects used in home life and essential furnishings in every home: chairs, stools , tables, lamps, and so on.
Louis Ghost Chairs
Among his most celebrated creations is undoubtedly the iconic Louis Ghost Chair, designed in 2002 for Kartell, which has become a bestseller. Known globally as the "transparent chair" or "Starck chair", the Ghost Chair owes its success to the combination of forms that recall the past and baroque style à la Louis XV, and the modern, with a lightweight and minimal material like transparent polycarbonate.
At its birth, the Louis Ghost chair brought a real revolution in the rules of design and aesthetics: it is only from this moment, in fact, that transparency began to be accepted and appreciated globally in the field of furnishings. But the revolution is also technological. It is with the Louis Ghost Chair, in fact, that industrial stamping techniques were perfected and started to become common, usable to produce objects that are available to everyone, just like the Starck Louis chair. Since then, other Ghost chairs have been developed: the slimmest chair, Victoria, the Lou Lou children's chair, the One More bar stools.
Juicy Salif Citrus Juicer
Another symbol object of Starck's work is undoubtedly the Juicy Salif citrus juicer designed for Alessi, a product that represents the perfect blend of functionality and design. The long, slim legs and clean lines give for the first time an absolutely unconventional design to a juicer, without affecting in any way the usefulness. One the contrary, due to its shape, functionality increases exponentially, since the glass from which the extracted juice will be drunk can be placed directly beneath the instrument used to extract the product, without having to transfer the juice from one vessel to another as with a common juicer. The material  it is made of is die-cast aluminum, which makes it lightweight, handy but at the same time durable.
It is a quasi-political work of value, that of Philippe Starck, precisely because it aims to redefine the spaces and objects surrounding man and the relationship between them, so that man can find his space In the world without being covered with unnecessary and meaningless objects.