Conceived at the beginning of the twentieth century, the so-called "cementine" or "pastine" tiles covered the floors of homes until the 1930s, becoming the symbol of the Liberty style. Featuring a strong decorative impact, they have come back on top for a few years and today they are on the market both in the traditional version and in many variations of contemporary interpretation in different materials, formats and decorations.
How do you choose the right cement tile?
Faced with such a varied supply, it is difficult to choose the right one; for this reason, the first step is to gather all the information related not only to the cost but also to the laying and maintenance of the tiles: there is indeed a big difference between traditional handmade tiles and ceramic, porcelain or resin tiles that more or less reproduce them faithfully.
First, it is necessary to distinguish genuine cement tiles, made up of cement mixed with fine marble powder, and marble chip, inspired by "Venetian" terrazzo, consisting of a mixture of concrete and fragments of different types of marble. In either case the tiles are in solid colours or decorated with floral or geometric motifs in square or hexagonal formats.
Today we can find on the market handmade concrete tiles that combine the advantages offered by new production methods with the qualities of durability and aesthetic value of the original products, which allow polishing and waterproofing treatments before laying: perfect for decorating period houses in retro style, they are recommended for floors in any room, from kitchen to bathroom, living room to bedroom.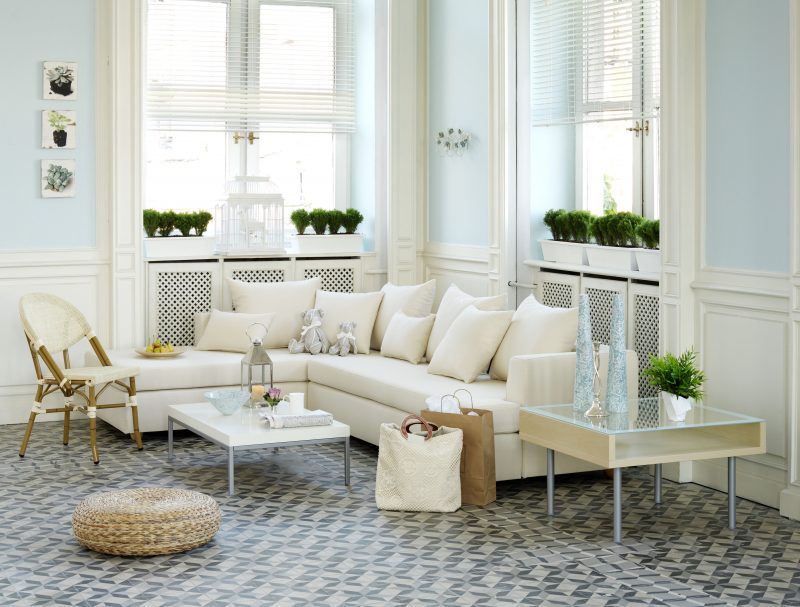 In new trends, cement tiles are also proposed for contemporary spaces to meet the needs of a audience who appreciates the mix of styles and does not look down on a decorative touch. The product is far more comprehensive compared to traditional artisanal products, thanks to the use of more versatile materials and innovative production techniques that offer an infinite range of formats, colours, finishes and setting methods.
Porcelain stoneware cement tiles
One of the most prominent places is porcelain stoneware, which unites the innumerable technical advantages with a nearly infinite choice of textures and decorations thanks to the digital printing process. Tiles are available in classic square or hexagonal formats in single version or printed on large-size slabs that reproduce a portion of the floor: a solution that simplifies laying and allows the creation of original patterns.
Collections based on classic cement tiles graphics are also available at some resin surface producers: digital printing on tile is performed on a special non-woven fabric, then coated with transparent resin to form a continuous floor.
What characterizes contemporary cement tiles, in addition to the materials, is the infinite setting possibilities that allow scenic and impressive solutions, for example in bold patchwork of floral patterns, classic geometric motifs and optical patterns inspired by 1970s fabrics, or in combination with other materials such as wood or cement. These combinations, both for flooring and on the walls, are perfect for giving character to confined space, such as the kitchen area in an open space, or to emphasize important pieces such as a designer free standing bathtub.
Whether traditional or contemporary, cement tiles are an ideal choice for the finishes of any home space: an ideal decorative solution for those who love retro style but perfectly couples with the essence and sophistication of modern style.